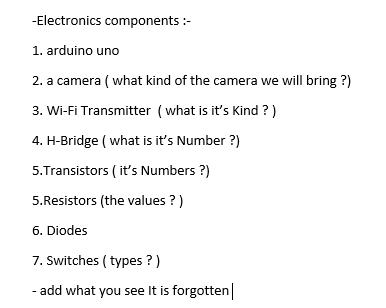 Like
Award Contribution
Yeah jayant Rasberry Pi for the camera, Wifi and user interface and the micro-controller for the sensors and motors.
Why not use windows and program with C#.
I think thats good combining arduino and raspberry pi.
The later versions of the Raspberry Pi have way more GPIO (General Purpose Input Output) pins that could be used to achieve the features of a microcontroller. So it eliminates the need for a separate microcontroller and hence lesser power requirements and lesser cost. But using arduino for interfacing sensors and motors has its own benefits too, ease of designing being the first. So we could really go any way on this, since we are a big team, i guess no way is a hard way, for we are collaborators and not just one person. Its out of the topic but this thing inspires me a lot, gives courage that best people from around the globe will have each others back, so pretty much anything is possible.
Sorry my reply has been slow these days. School is back in session so I barely have time to check my mails and follow up.
But good progress by the way. The signal amplification and battery charging has been solved right?