WalkAnywhere Wheelchair
A Robotic Wheelchair design that can Walk like human beings.. even climbs Stairs... For Differently Able Peoples.
0 Contributions Made
0 Milestones
3 Participating Countries
Robotics
Passion
This project is on ICE!
Heat this project up by pinging the project leader to make a new post and get things moving!
STORY
WalkAnwhere WheelChair
A Robotic WheelChair design that is all terrain can climb Stairs too. A Locomotive Add to Differently Able Persons.
Current Task in Progress
Brainstorming on Efficient and Cost Effective Designs.
Teammates & Contributors I'm Looking For
Anone Interested.
Where I Need the Most Help
Mechatronics, Robotics. AI, MI, Programming, Designs
Why I'm Passionate About This Project
Technology to Assist Differently Able ones.
Supporting Material & Info
Walking Wheelchair Designs
All Terrain Wheelchair Designs
Stair Climbing Wheelchair
UltraLight Wheelchair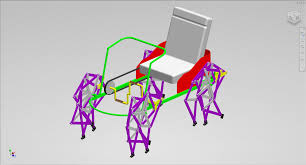 ---
Discuss WalkAnywhere Wheelchair
Start a discussion...