About us
Col·lab·or·izm
kəˌlabəˈrizəm/
noun
an online collaborative workspace for aspiring Entrepreneurs, Engineers, and Creatives.
Our Project Resource Center and FAQ also do a great job answering key questions about the Collaborizm process.
Project Resource Center
   |   
FAQ
How It Works
Start a Project
Have an amazing idea? A new drone? A new app?
Then start your project and being recruiting teammates, receiving contributions from the community and bringing your Project to life. Projects can be passion, learning, or commercial in intent.
Join a Project
Looking to join an amazing team? Look no further. Join teams, meet your teammates, and begin participating and contributing to your Project.
Contribute and Earn Reputation
You can participate in any discussion or Project, even without being a team member, just by contributing in Collaborizm Discussions. When you make a valuable contribution, our top users will add you as a contributor, which acts as an official endorsement to your skill set, which helps build your reputation, and get you paid work in the future!
Find Paid Work
Users that have built up a strong contribution base on their profiles will start to have the opportunity to tackle paid gigs on the platform. All paid gigs are currently listed on our homepage. Stay tuned for updates.
Participate in Awesome Hackathons
Collaborizm is an amazing place to join or start a team for one of our tech hackathons. Team up, meet new people, and compete for prizes year round!
Our Mission
Our mission is to build a vibrant collaboration community where makers, innovators and creatives can network, share knowledge and inspire one another by working together across different geographies.
Long term we set out to create a virtual workspace that will dramatically enhance human creative output, and break down the significant skill and cultural barriers that exist in the world today through a unique collaborative process.
The Power of Contribution
Contributions sit at the epicenter of Collaborizm. Contributions allow users from all skill sets and backgrounds to show off their skills as they help others in the community.
As users do this, other trusted members of the community can review these contributions, providing incredibly rich, pin pointed, peer to peer reviews, which provide clarity on the skill level and interpersonal qualities of users and freelancers within the Collaborizm network.
Working With Our Talent Pool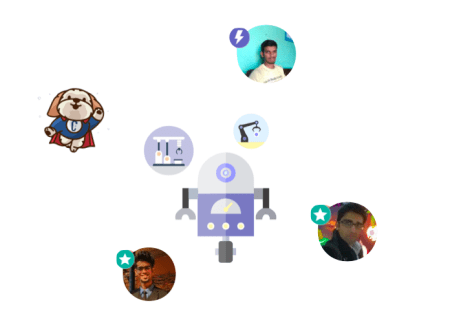 Why Us?
Collaborizm has begun to roll out our paid gigs initiative on the platform, and it is our most important initiative to date. We are focused on providing undiscovered talent from around the world with paid work opportunities that can improve the lives of many talented people from around the globe. Stay tuned for more updates. Only select members have permission to post paid work at this current point in time.
Posting Gigs (Getting Work Done)
Post a gig, and let our talent pool get the job done. Gigs can be posted from any discussion (from your own profile, or a project). Gigs range from CAD Design, Electrical Engineering, Robotics, to Design Tasks, and everything in between. See collaborizm.com/freelance to learn more.
Our Project Resource Center and FAQ also do a great job answering key questions about the Collaborizm process.